Advertising In Print
Print advertising in WRS is designed to augment your networking efforts, because it generates referrals for you when you can't or don't want to attend networking events! Remember… print advertising is a very important part of a healthy marketing strategy …so ask yourself…
Are you generating new customers from multiple sources?
Are you visible enough in print?
Is your name and business getting in front of your potential customers?
…if not, your potential customers may be doing business with your competition!
While we live in a fast paced digital world with social networking sites, fast search engine companies, "smart phones" and internet savvy handheld devices… our printed and online directories still prove to be an effective way to acquire new customers, especially within WRS.
Why? Because these directories are the tools WRS Members use to refer people in their circle of friends, family, associates, and clients to each other. Additionally, because of the many distribution centers who display our directories, WRS ensures that your name gets in front of consumers, company executives, corporations, non-profits, clients, and customers who are seriously seeking service providers they can trust.
WRS Members have the opportunity to be visible in our two annual publications, the WRS Blue Book and the yellow WRS Referral Guide. All advertisers must complete the WRS pre-approval application process and receive the WRS Seal of Approval in order to be listed.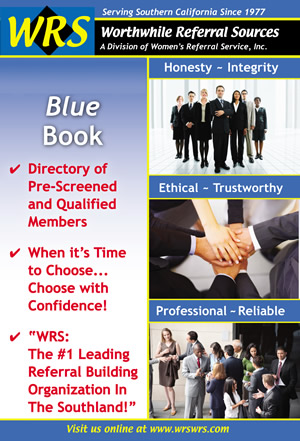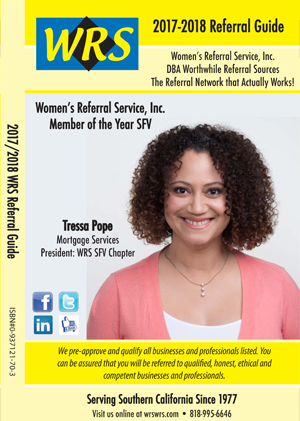 WRS 'Online' Referral Service
WRS 'Online' Referral Service
Why should you list your business at referral-guide.com?
Because it is very cost effective and we do the marketing for you!
Referral-Guide.com is ranked #1-3 on the first page of the Google Search Engine
The WRS online Referral Guide is the ONLY online referral service, we know of, that pre-qualifies, pre-approves, and monitors ALL of our listed advertisers, assuring customers they can use any listed services with confidence.
WRS stimulates traffic to this site using a variety of marketing strategies. In addition to our top ranking, WRS promotes this site via ongoing mailing campaigns, including email campaigns and print advertising to over 600,000 business owners and professionals in our database within Southern California. This very effective marketing strategy points customers to our site, increases hits, and links them to you and your site, which generates new and ongoing business for you without you having to do any of the marketing yourself.
Listings, Banners, and "Top of Category" options are all available.
Click here for the Online Referral Guide
Ready to generate new customers for your business or practice. Contact us to find out how WRS can help you and your business.